Our strip manufacturing shop contains some of most precise milling machinery available, carefully sourced and set-up over time. By utilizing ultra -thin kerf re-saw blades on our resaws as well and our high tech moulder we are able to increase our yield and reduce wastage.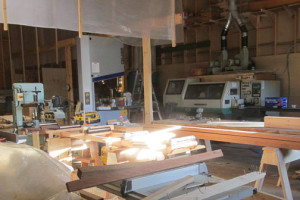 By being dedicated makers, operating and owning our own milling operation, we are able to maintain very high quality standards. Any middleman contracting out this procedure to another party is more likely to lose control of quality in machining.

 Being here in the heart of the rainforest & cedar country we have unsurpassed access to finding quality old growth Cedar and exceptional older second growth cedar which very few Canadians east of the western slopes of the Rockies do.
 Another load of …..
personally hand selected Red & Yellow cedar.
Rather than ordering a lift of lumber sight unseen and making strips from it, we inspect every piece of cedar at the mill for grain tightness, colour and run-out, thus insuring the best strips from the very start. With our two flexible re-sawing lines we are able to resaw any size timber in any direction and dimension to get all vertical grain strips.
We are in complete control of the process from logs to finished strips. But we do not stop there, as our top of the line in house manufactured packaging in the "Totembox"  assures you get your product safe and sound.

  Resawing cedar ……
….for optimum grain orientation as well as the most appropriate strip size.
    Precision Grinding
Our in house CNC custom tooling department assures machining accuracy to within 1/100th of a millimeter. Over thirty years of experience in tooling design, machining strips and building cedar strip craft have honed our process in building precise tooling to make awesome strips. Whatever size you are looking for, rest assured that TotemStrips, has what you are looking for.