3/16″ "Totem  cedar strips" for Redfish Kayaks,  Laughing Loon kayaks & Guillemot kayaks
We have 3/16″ cedar strips for building Redfish kayaks, Laughing Loon kayaks, or Guillemot kayaks, or any other design where 3/16″ strips are specified.
Square edge strips available – contact for pricing.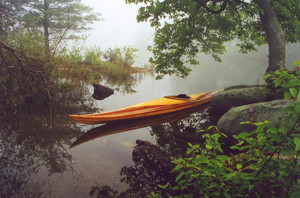 Built with our strips,  this " Guillemot" Kayak
 is easy on the eye and fun to paddle! 
3/16″ – "TOTEM STRIPS"  – 12′ to 19′ – shipped by ground freight
W. Red & Yellow Cedar Bead & Cove Strips  – pricing in Cdn funds                           
| | | | | | |
| --- | --- | --- | --- | --- | --- |
| Lengths | 12′-15′ |    16′ |    17′ | 18′ |   19′ |
| "Fine Line"     3/16″ x 3/8″ | .40/lft |    na |    na |    na |    na  |
|  3/16″ x 1/2″ | .43/lft | .48/lft | .53/lft | .58/lft | .63/lft |
|  3/16″ x 5/8″ | .48/lft | .53/lft | .58/lft | .63/lft | .68/lft |
|  3/16″ x 3/4″ | .53/lft | .58/lft | .63/lft | .68/lft | .73/lft |
 The "Silver" a Redfish Kayak